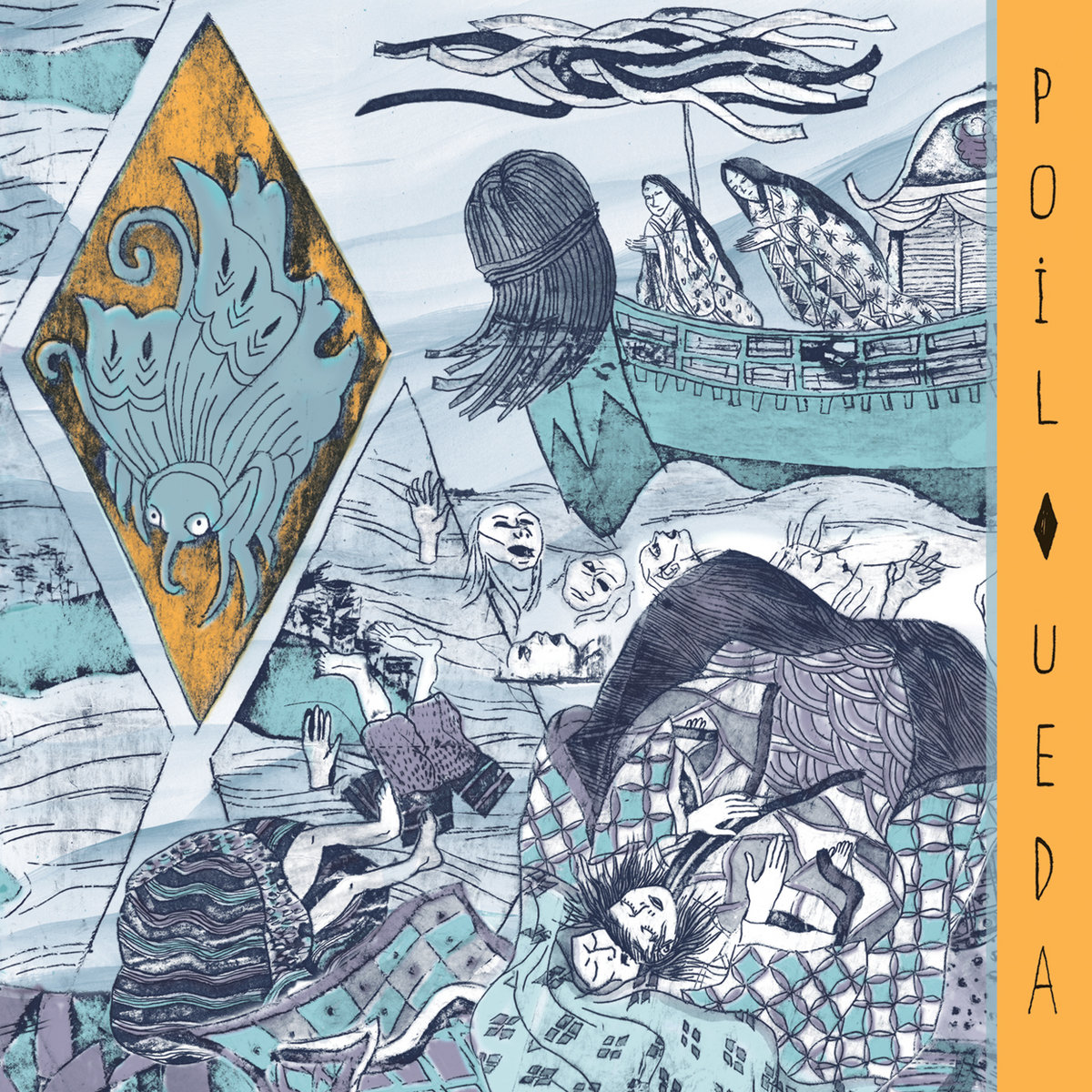 Band: PoiL Ueda | Album: PoiL Ueda | Genre: Progressive rock, RIO, Japanese folk | Year: 2023
From: Lyon, France & Tokyo, Japan | Label: Dur et Doux
For fans of: Osamu Kitajima, Magma, Frank Zappa, Ni
After four years, PoiL returns with another daring, angular, madcap album. 2019's Sus was a fantastic release, and it saw the band both focus its songwriting after the sprawling Brossaklitt and stretch out with a pair of 20-minute suites. On this release, the band has teamed up with biwa player and singer Junko Ueda.
I'm hardly an expert in traditional Japanese music. I knew what a biwa was before writing this review, so I'm probably ahead of most Americans, but not by much. According to Ueda's website, she specializes in "biwa storytelling" and shomyo, a type of Buddhist chant. My primary source of knowledge of Japanese folk music prior to this was Osamu Kitajima's seminal Benzaiten, a sublime synthesis of progressive rock and an array of Japonic styles.
Much like Sus, PoiL Ueda is made up of a pair of large suites, each of which typifies one of Ueda's professed specialities.
Side A of PoiL Ueda is the three-part " Kujô Shakujô", which covers the shomyo style. This suite opens with a reedy organ drone as Ueda stretches out prolonged vocal notes. As this opening movement progresses, weird synth bloops and growls burble. It's a meditative piece that focuses primarily on atmosphere, and I can absolutely see how this composition may have its stylistic roots in monastic mantras.
In its second movement, this suite sees jittery guitar arpeggios join the fray. Ueda's vocals remain drawn-out and deliberate, but the rest of the band has an eager, nervous energy. The bass is bouncy, and keys jump and jitter.
The meditative mood falls apart near the end of part two, with the emergence of flavors of RIO and zeuhl. There's an underlying sense of tension to this track. It feels like it wants to burst free, but it's somehow restrained. This tension of restraint and exuberance pays great dividends as complex percussion, rubbery bass, twangy guitar, and oddball keyboard arrangements all dance around each other.
Ueda's vocals are restrained but powerful, and the gradual ascent from this epic's quiet opening is immensely satisfying.
The second composition on PoiL Ueda is "Dan No Ura", and it prominently features Ueda's biwa. It kicks off with her unique vocal performance as the biwa and piano cultivate a tense atmosphere.
Twisting, Yes-inspired riffs are paired alongside traditional Japanese modes and plinking chimes. It's a wonderfully artful and natural integration of Western and Japanese musical traditions.The backing riff builds to an impressive intensity, and a metallic aggression is evident as well.
Abrasive, start-stop blasts of guitar and synth lend this composition power and weight.
The second part of this piece features subdued but evocative instrumentation as Ueda weaves enthralling vocal lines. "Dan No Ura" is a bit on the short side, at only about 13 minutes. Despite this runtime, it's an impressive piece which demonstrates great skill at blending disparate musical styles.
PoiL Ueda is an impressive album. The distinctly Japanese and European flavors meld in a natural manner, and this is a cohesive and intelligent record. There are some bold musical decisions on this LP, but they all pay off. This release is an instant contender for my 2023 album of the year.
Score: 95/100