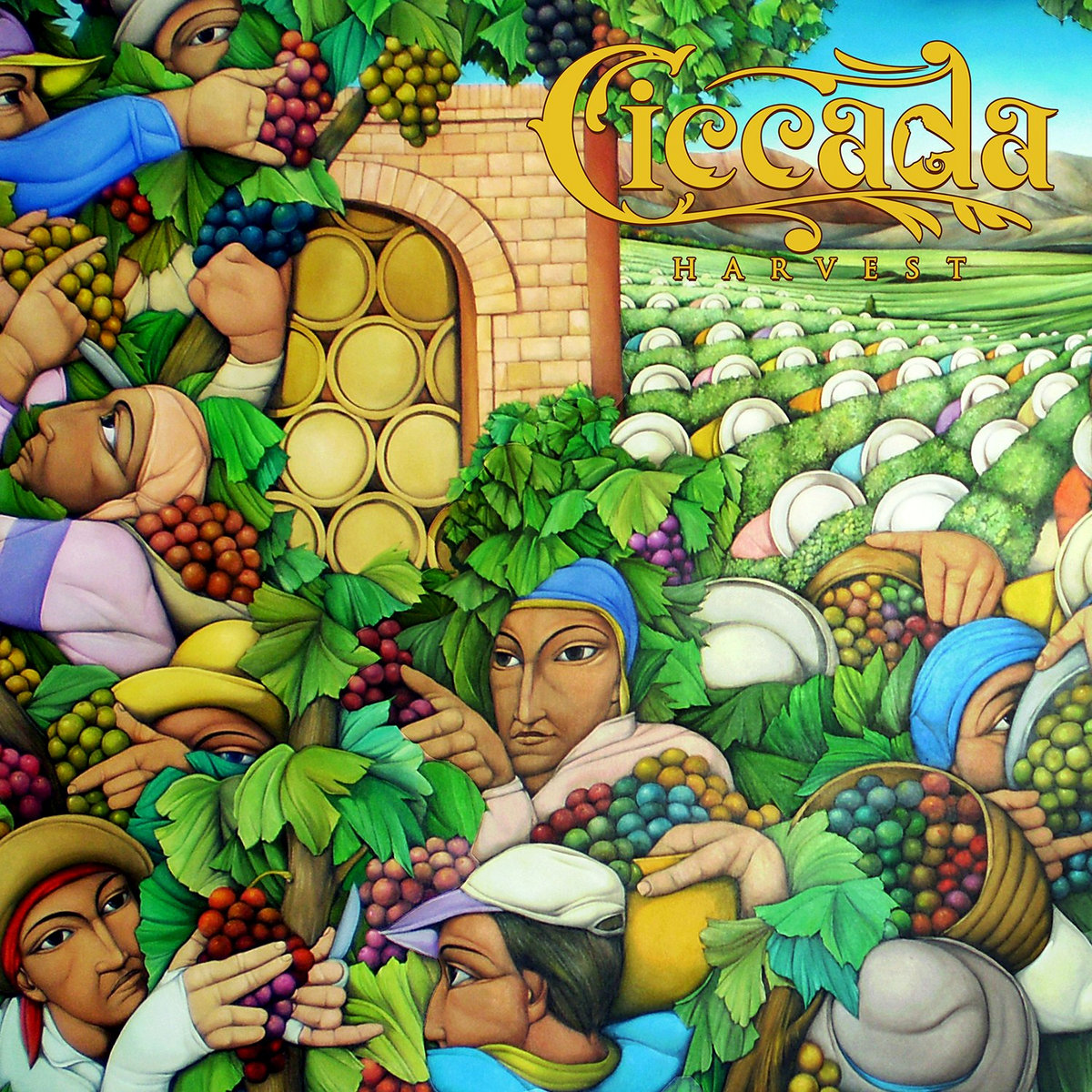 Band: Ciccada | Album: Harvest | Genre: Progressive rock, Progressive folk | Year: 2021
From: Athens, Greece | Label: Bad Elephant Music
For fans of: Gentle Giant, Gryphon, Renaissance, PFM
"Retro-prog" does not necessarily need to be a negative term. It usually is, and I most often deploy it when describing unoriginal Yes and Genesis clones. But there are acts who manage to successfully evoke certain elements of the first wave of progressive rock without being derivative. The most enjoyable of these draw from oft-overlooked corners, such as the Italian scene and progressive folk acts like Comus and Gryphon.
Harvest is the third record from Greek septet Ciccada, and it is easily my favorite of theirs so far. All the prog tropes are here—long and obtuse song structures, retro-futuristic synth tones, and top-notch musicianship—but they're blended with under-utilized and unexpected influences. The eclectic inclusions range from jazz to Greek folk to the Canterbury scene to Baroque music, and beyond.
The album begins with "Eniania (Keepers of the Midnight Harvest)". Clean guitar, Mellotron flute, and chanted vocals build an alluring, folky atmosphere. Smooth sax and organ call to mind Van der Graaf Generator's gentler moments, as does the weird, off-kilter passage near the song's midpoint. "Open Wings", meanwhile, starts on a pastoral note. The confluence of jazz and folk, when combined with the vocals, reminds one of Renaissance.
Jazzy guitar and warm wind instruments open "The Old Man and the Butterfly", and stark contrast is quickly drawn between that and more sinister organ passages. The fluctuation between light jazz-folk and more rock-oriented passages is always smooth, and there are some smart integrations of Eastern Mediterranean melodies.
"No Man's Land" begins with a cosmic, synth-laden instrumental passage before another commendable transition to gentle folk music. This is one of the moments where the band leans most heavily into the sounds of the biggest-name prog acts, but that's not a knock against it. The textures are fantastic, and that cosmic atmosphere is a nice contrast to this record's usual more grounded sound palette.
"Who's to Decide?" starts off on a funky groove, and the vocal arrangements are creative. The song's second half features a detour into weird chords and brass like one might hear on Magma's 1001° Centigrade.
Harvest's final song is its longest: the twelve-minute "Queen of Wishes". This song begins in the folky style typical of this album, but it soon vacillates between that and Uriah Heep-ish proggy hard rock. The rapid swings back and forth are jarring, but it's not unpleasant. After a while, though, it does begin to feel more unfocused than adventurous. The final three minutes sees the band play some of the most exciting music on the record. Unfortunately, it falls victim to the same lack of focus displayed elsewhere in this track. It's a mishmash of cool ideas which don't necessarily gel.
Ciccada have put out their best album yet with Harvest. The blend of folk, jazz, and prog is seamless in most of the record; and even the jumbled closing track has plenty of strong ideas. Overall, it's an album that should be worth your time.
Score: 83/100