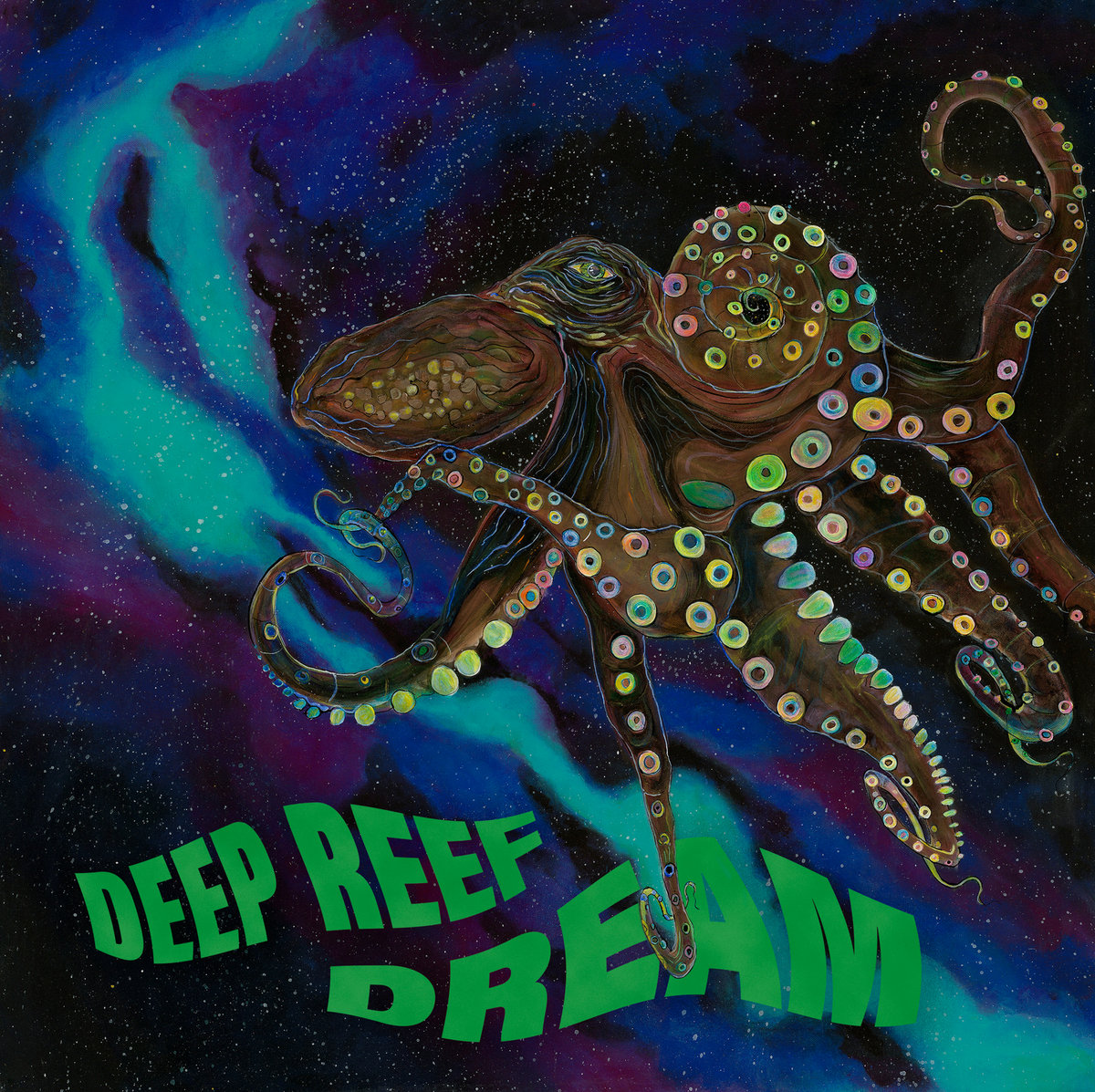 Band: The Light in the Ocean | Album: Deep Reef Dream | Genre: Progressive rock, Progressive metal | Year: 2022
From: Minneapolis, USA | Label: Independent
For fans of: Devin Townsend, echolyn, Spock's Beard, Transatlantic
The Light in the Ocean is a Minneapolis-based quartet with a penchant for sea life. Both this record and their prolix 2020 album–The Pseudo-Scientific Study of Oceanic Neo-Cryptid Zoology–have featured cephalopods on the album art; and their 2019 debut heavily focused on seafaring. I wouldn't have expected such themes from a band based in a landlocked state. (Then again, many a Hawkwind song is about space, yet they live on Earth.)
The music on Deep Reef Dream feels like a logical next step in their sound, based on what I heard on their last album. This release has more heavy moments than its predecessor, and the band has fully integrated both violin and trumpet into their songwriting. The music remains both complex and accessible, though. The album is also much less lyrically-focused, with six of the nine songs being instrumental.
One of the three songs with lyrics kicks things off. "Things Inside" opens with a heavily-phased guitar line that is gentle and subtly jazzy. The vocal melody is immediately engaging, and the hook in the chorus is incredibly infectious. Combined with this big, catchy refrain are walls of crushing distortion that add a lot of grandiosity. This mixture of metallic riffs and intelligent melodies reminds me a lot of some of Devin Townsend's best work. This song's midsection features some quiet and dark instrumental interplay, with slight electronic influences in the percussion.
Following that banger of an opening track, the band launches into a series of instrumental cuts. First among these is "Parthenon", which prominently features piano, violin, and crashing, metallic percussion. It's dramatic and tense, and this piece flies by.
"Tijuana Sunset" has an energetic, racing first moments. Propulsive-yet-restrained drumming pushes this along as synthesizers growl and violins swell. The eventual main theme which bursts forth is a Mexican-flavored trumpet line that certainly evokes the title's imagery. The guitar stays in the background at first, but its jittery strumming is an excellent element. There is eventually a flashy, Lifesonesque solo that acts as a strong bridge between repetitions of the main motif. "Smee", meanwhile, is an atmospheric palette cleanser featuring broad distant wordless vocals and mellow guitar chords.
The next track with lyrics is "Psyclops". (Great title, by the way!) The opening riff is slow and plodding, and the long enunciation on the stressed syllables adds to the song's weight. As the song progresses, there is a sense of rising through immense pressure, only to be beaten back down by the heavy guitar parts. There is another strong hook here, though it's not quite the brainworm that "Things Inside"'s chorus is. What this song does have, though, is a top-notch violin solo which is dynamic, dramatic, and surprising.
Following the brief piano interlude "Underwater Cigarettes" is the Deep Reef Dream's title track. This song's opening is somewhat electronic with its beat and simple piano chords. When the rest of the band joins in, there's a light, tropical feel to the music. The song gradually builds in intensity, and despite this piece's (relative) length and structural simplicity, it manages to maintain engaging. Another short piece, "Mr. Pippy", follows this. It's a smooth, mellow scene-setter for Deep Reef Dream's finale.
"Big Beef" is the album's longest song, and it explodes from the get-go with a thrash metal riff. The vocal melody is similar to that of "Things Inside", acting as something of a bookend. The drumming on this track is especially impressive, full of tight, technical fills. The song swells with grandeur, and the vocal arrangements add great depth. As the song progresses, violins and saxophone herald a slower, spacier passage. Toms and hand percussion keep the song grounded, though, as it slowly dissolves.
Deep Reef Dream is a very fun record that balances big, melodic hooks alongside odder instrumental excursions. The addition of violin and trumpet to the band's sound has been a massive boon; those instruments add a new layer of depth that feels completely natural. There's a little bit of something for everybody on this record, and it gels in an amazingly cohesive way.
Score: 88/100