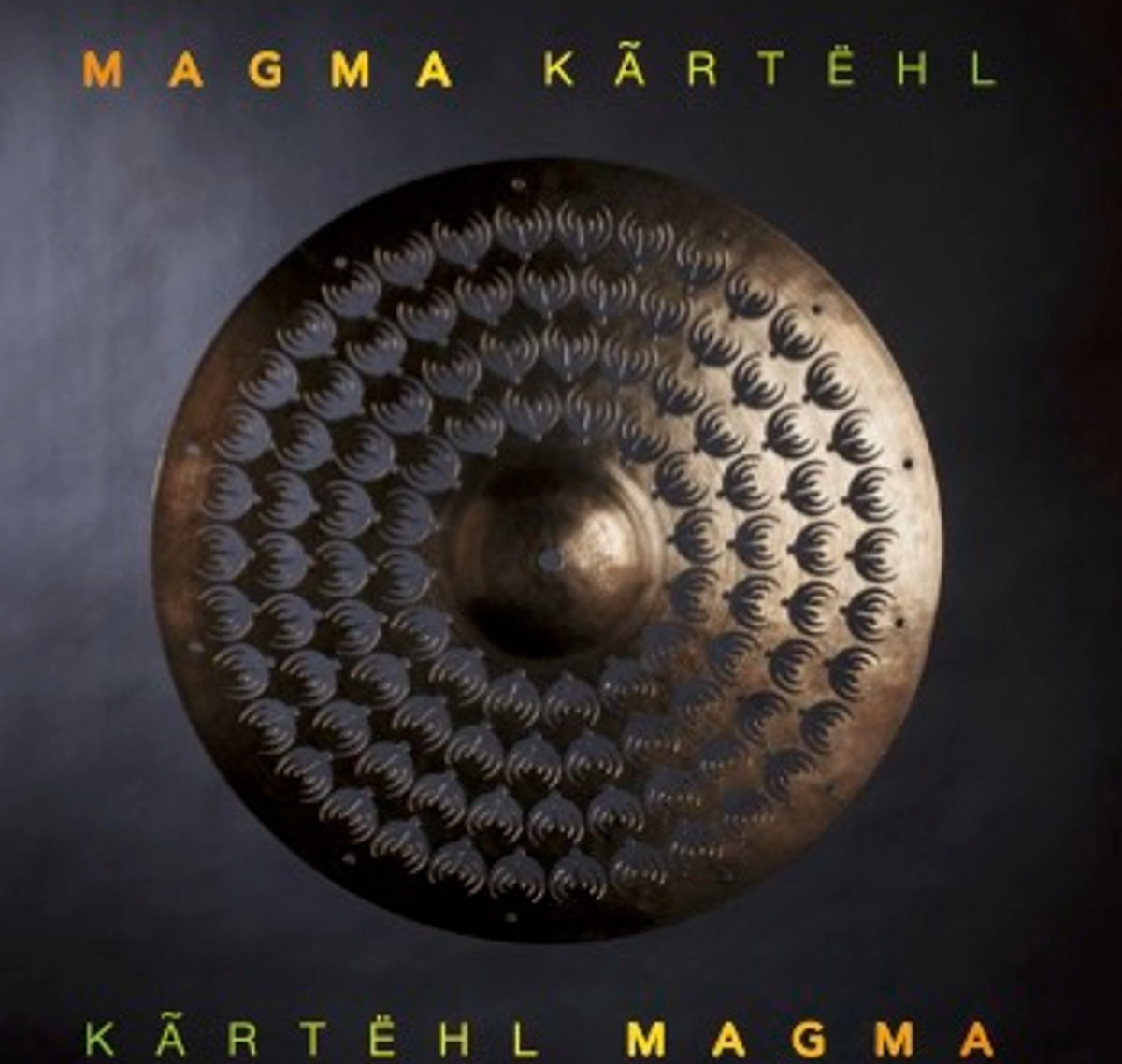 Band: Magma | Album: K​ã​rt​ë​hl | Genre: Zeuhl, Jazz-rock | Year: 2022
From: Paris, France | Label: Seventh Records
Magma returns with a new studio album and a frustrating set of diacritics that make writing about this album in Google Docs a hassle. K​ã​rt​ë​hl follows 2019's Zëss, the conclusion of the Kobaïa mythos, so I have no idea where (or if) this fits into the story of the Kobaïans. (For more on that, check out my Magma Deep Dive!)
Where Zëss ended things on a bit of a somber note, K​ã​rt​ë​hl has a noticeably sunnier disposition. It's distinct from Félicité Thösz, but it shares that same general uplifting hopefulness. Magma has always been good at conveying emotion, whether it be the doom-and-gloom of "De Futura" or the celebratory warmth of "Öhst".
Upbeat, jazzy piano, bass, and vocals open up "Hakëhn Deïs", and this is evocative of the mellower moments of Attahk. There are some little moments where guitar gets some time in the foreground, and that bit of crunchiness is much appreciated. One of my biggest gripes about Zëss was that it was texturally soupy. The songwriting on this track is strong, overall. It's rather fun, bouncy, and does a good job of engaging the listener.
Philippe Boussonnet, Magma's bassist for nearly 20 years, is no longer with the band. However, his replacement is Jimmy Top, son of on-and-off Magma bassist Jannick Top. The younger Top does a great job here. He's flashy and skillful without being distracting, and he fits right into the legacy of Magma being one of the most bass-forward rock bands this side of Primus.
"Do Rïn Ïlï Üss" opens a bit more slowly, with chimes and enveloping vocal arrangements. As the song picks up momentum, the backbone remains strongly rooted in jazz. The rhythm and melody jump all over the place, but Vander's masterful drumming keeps everything in line. This song has a bit of a darker edge to it than the opener, but it's still pretty light by Magma standards.
The opening of "Irena Balladina" is the mellowest moment yet. The preceding cuts may have been relatively warm and hopeful, but this cut has a more relaxed air to it. This song also feels a bit aimless, though. A lot of it comes off as just vague jazz noodling.
The mood is a bit more ominous on "Walömëhnd Ëm Warreï", which has eerie, ascending vocals over clattering drums. The choir has a haunting effect at the start of the verse. The vocals are doom-laden and oppressive. Top and guitarist Rudy Blas weave together an anxious, jumpy backing for Stella Vander and her other vocalists. This song has a weighty atmosphere without being overwhelming.
Odd, squealing, gibbering vocals kick off "Wiï Mëlëhn Tü", along with heavy piano chords and wiry, buzzing guitar notes. The melody is unusual, and Magma channels their often-ritualistic tendencies here. It's spooky and very interesting. As the song nears its end, the mood converges with K​ã​rt​ë​hl's earlier sunniness for a satisfying climax.
K​ã​rt​ë​hl closes on "Dëhndë". This is another song with strong echoes of Attahk, while also being among the most positive-sounding cuts on the album. It's a shockingly accessible song from this band; if it weren't for the Kobaïan lyrics, this would probably appeal to a lot of mainstream rock fans. It goes on for maybe a minute longer than it needs to, but it's still a fun cut on the whole.
Magma's latest release is a respectable addition to their discography. It's actually slightly better than what I was expecting, based on the reviews I had read. It's one of the band's lighter, happier pieces, and it shares a lot of DNA with their late 1970s output. If you're a Magma fan, you will likely enjoy this album.
Score: 81/100