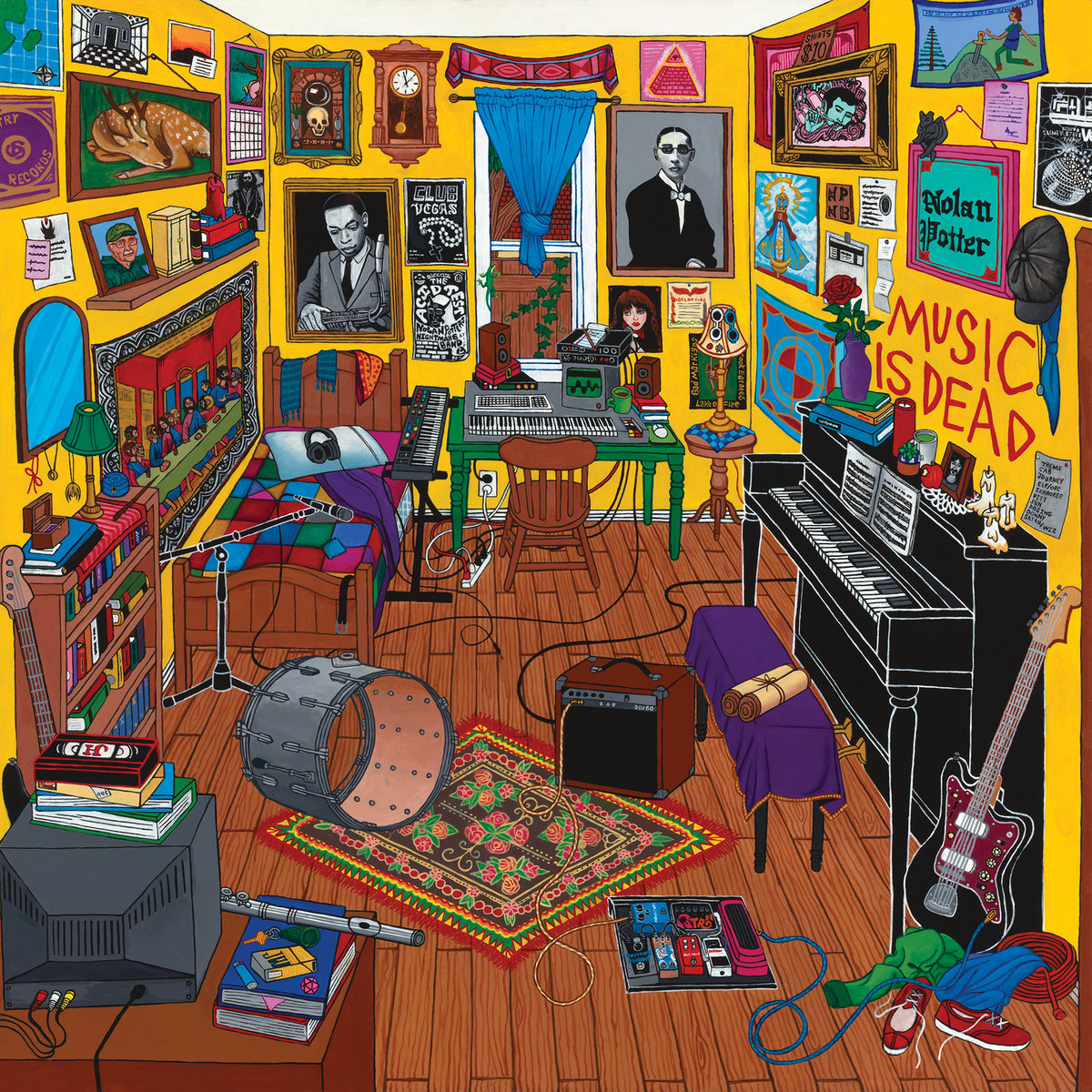 Artist: Nolan Potter | Album:Music Is Dead | Genre: Progressive rock, Psychedelic rock | Year: 2021
From: Austin, USA | Label: Castle Face Records
For fans of: early Frank Zappa, Foxygen, Ty Segall, Once and Future Band
Nolan Potter is a Texas-based multi-instrumentalist, and Music Is Dead is his second full-length release. His 2019 debut was a strong collection of tracks which blended together a healthy melange of influences, like psych, folk, pop, prog, and experimental music. Music Is Dead further improves on that strong debut, and Potter demonstrates some serious instrumental and compositional chops.
"One Eye Flees Aquapolis" opens the album with a dreamy, late '60s psych atmosphere. Lazy, buzzy guitar floats along under gentle vocals, all while bass acts as a lead instrument, with lots of little flourishes. There's a weary doggedness to this track's energy, and it suits the ragged guitar chords which underpin the song. The way the song gradually builds is reminiscent of certain krautrock acts. Synthesizer and fuzzed-out guitar gradually build in prominence, culminating in a lovely solo at the end of the song.
The bubbles of a bong and a fuzzed-out guitar riff usher in the longest song on the album, the nearly-9-minute "Stubborn Bubble". Between the energetic riff, distant vocals, and noisy synth embellishments, this track features the most obvious Ty Segall influence on this record. After the first verse, a Middle Eastern-tinged synth line appears in a brief interlude. Around four minutes in, a driving wave of energy comes crashing down. Ethereal atmospherics take the lead, pushed along by rolling percussion, gentle bass riffs, and lush synth tones. As this calm section comes to an end, krautrock flavors are once again evident in the insistent pulse driving overlaid guitar solos.
"Gregorian Chance" provides some breathing space. It's got a relaxed, folky opening, and it's the first point on this record where the Zappa influences are really obvious. It's not just an aping, but it's a clever synthesis of Mothers-era Zappa with Potter's own unique style. There's a great, watery guitar solo around the midway mark, and the way Potter deploys flutes and synths keeps the textures of this track interesting.
The second half of Music Is Dead starts with "Holy Scroller" and its peppy, bouncing piano. On the surface, it seems like fairly straightforward, jazzy psych-pop, but the dense layers of carefully interwoven music demonstrates Potter's skill as a composer. Repeated listens have only made this more evident to me. The climax of this track is a masterful build-up.
"Preeminent Minds" contains hints of both blues and folk in its opening riff, and the melody of the verse is immediately striking. This track features pitch-shifted vocals directly evocative of We're Only in It for the Money, and it feels like a brilliant blend of that album, modern heavy psych, and a certain je ne sais quoi that is uniquely attributable to Potter.
Music Is Dead closes on its title track. It's a slow-moving jazzy cut that laments many of the modern realities of being a professional musician. As elsewhere on the album, the arrangement is clever and engaging, and I'm especially fond of the many layers of flute. There's a cynicism to this song, but there's also an underlying warmth. Those pitch-shifted vocals appear here too for further textural and tonic play. The middle of the song transitions to something entirely different, featuring sequenced synthesizers, otherworldly flute and vocal elements, and high-energy, skittering drums. It's like a mix between the midsection of Jimi Hendrix's "1983" and an early Tangerine Dream track.
Nolan Potter's second album is a fantastic synthesis of psychedelia, progressive rock, krautrock, and more. This album is successfully thoughtful, creative, and engaging, while also being impressively accessible.
Score: 91/100