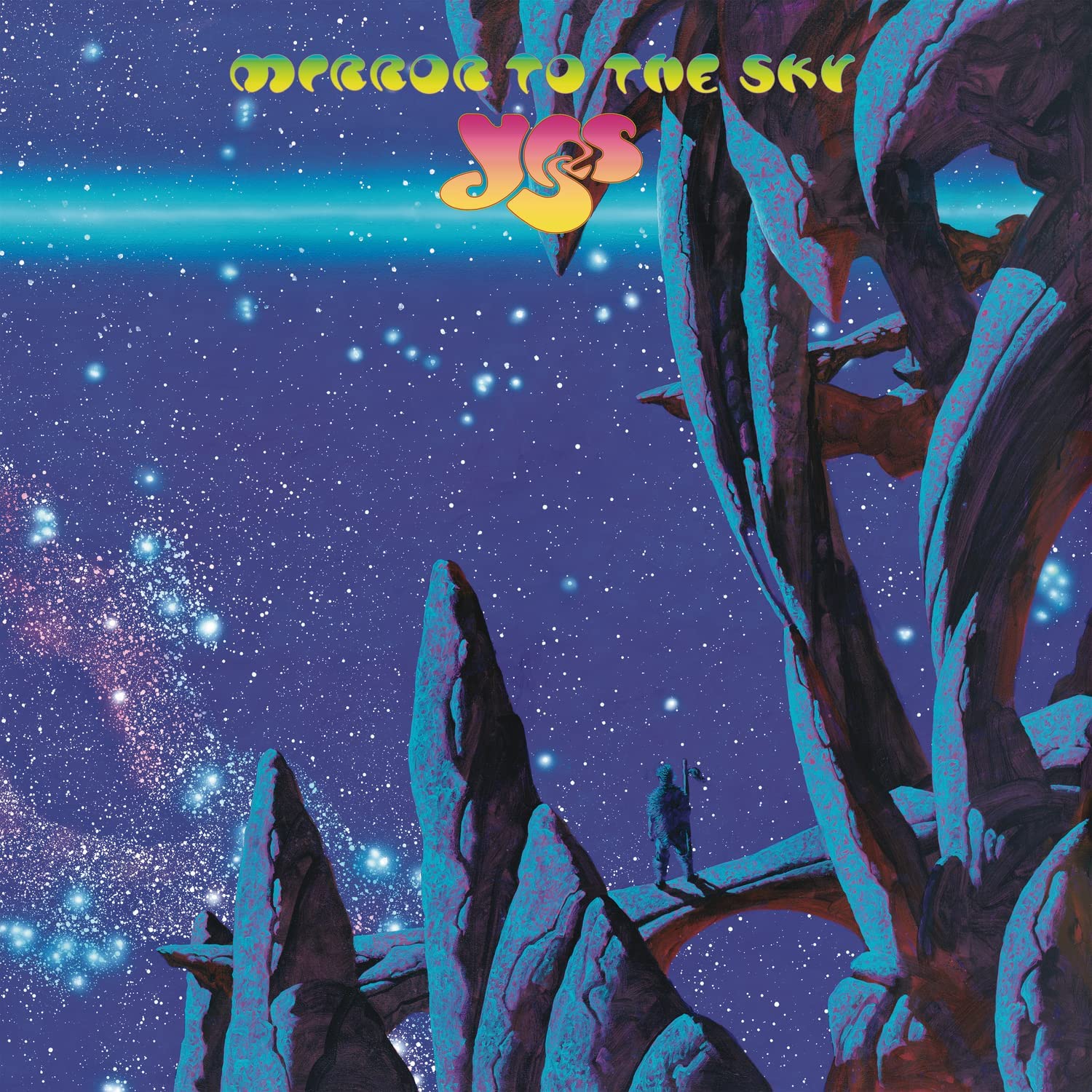 Band: Yes | Album: Mirror to the Sky | Genre: Progressive rock | Year: 2023
From: London, UK | Label: InsideOut Music
About a year-and-a-half after their dull-as-dirt twenty-second studio album, The Quest, Yes has returned with a new release. At times, I question whether or not this band really is "Yes," though. They're a bit like the Ship of Theseus at this point. Jon Anderson was booted from the band in 2008, following a severe asthma attack. Chris Squire was the last remaining of the original members in the band, and he passed away in 2015. Then last year, Alan White, the band's drummer since 1973, also passed away. Steve Howe's still with the band, though he did have a 16-year absence from the band from 1981-1997. Keyboardist Geoff Downes was briefly in Yes in the early '80s before returning in 2011. And Bassist Billy Sherwood was a longtime friend of Squire's who has collaborated with the band since the mid-90s. My distaste for vocalist Jon Davison should be evident from my last Yes review.
Philosophical conundrums aside, I haven't been shy about dragging big-name acts through the mud when they put out a bad record. The Quest was terrible, and I mentioned that I liked Heaven and Earth even less in that review. I'm not a fan of The Zealot Gene, and I gave RökFlöte a lukewarm rating. (And that RökFlöte review prompted someone to send me a downright apoplectic email full of typos and shoddy reasoning. It really was funny how bent out of shape that person got.) I'm both looking forward to and dreading my eventual Dream Theater Deep Dive; if you think I went hard on The Wall's sophomoric storytelling, just wait 'til I talk about The Astonishing!
I went into this record with low expectations. The members of Yes seem to have simply gotten kinda lame in their old age. I was not particularly impressed with the first single, and the fact that this is another of those stupid disc-and-a-half money-grab releases also didn't do much to give me hope. Despite all that, I wound up being pleasantly surprised. Mirror to the Sky is Yes's best album since Magnification, and I'm willing to unambiguously call this album good. Not great, but good.
Mirror to the Sky opens with its lead single, "Cut from the Stars". It's a decent, high-energy opener. In a change from The Quest, Geoff Downes's synth tones are actually pretty good here. I also like the effects Steve Howe deploys here. The production is fantastic, too, though one glaring weakness is vocalist Jon Davison. His voice falls into an uncanny valley of Jon Anderson impersonation. It's very close but just off enough to be quite unsatisfying. It also feels somewhat weak and thin. Anderson, for as pretty as his voice can be, can also put some muscle into it.
Following this is "All Connected". The synth tones are good here, too; it's a marked improvement over The Quest's dated sounds. That's two songs in a row; good job, Geoff! Good synth tones aside, the intro is kind of dull. Steve Howe plays the same short pattern over and over and over, just shifted up or down a few notes. When the verse starts, Davison's vocals are again distractingly, unsatisfyingly fluffy. The instrumental backing has its moments, but the overly light vocal arrangements detract from the body of this song. The melody shifts around the four-minute mark to something with a little bit of grit to it, and it's a big improvement over the saccharine first part. Unfortunately, this is followed by an acoustic passage that gives me a lot of worship music vibes. The closing minute reminds me a bit too much of the "Soon" section of "The Gates of Delirium", but it's fine.
"Luminosity" has a slow but impactful opening, featuring pizzicato strings and long, languid guitar lines. The autoharp and acoustic guitar embellishments aren't great, making this intro a bit of a mixed bag. Davison's voice is again too sweet here (I'd rather not develop diabetes.) What drives me really crazy, though, is his pronunciation of "luminous." He says [lu:mənɛs], as opposed to the standard pronunciation of [lumɪnəs]. Replacing the schwa with the "eh" sound hits my ear catastrophically wrong. That said, the backing vocals are pretty good here and sound like classic Yes. Howe's guitar solo around the six-minute mark is pretty decent, though it again reminds me of "Soon" and runs for too long.
Up next, "Living Out Their Dream" opens with a riff that is (dare I say it?) fun. It's high-energy, groovy, and features enough cowbell to cure any fever. Howe's pedal steel guitar gives me flashbacks to "Going for the One". The verse doesn't quite match the energy of the opening, and Davison sounds a bit too subdued here. At least he sounds like himself and not a Jon Anderson impersonator (mostly). I could easily imagine a cut like this fitting in well on Talk or The Ladder.
The title track comes next, and it's the longest song they've written since "Mind Drive" and "That, That Is" in the mid-90s. ("Fly From Here", released in 2011 and broken up into smaller pieces, is technically a longer song. However, it was written in the early 1980s.) The opening guitar is very un-Yes-like. It evokes a barren, dusty desert, and it sounds like something I'd expect from a stoner metal act. Once the acoustic guitar and piano enter though, that comparison falls apart, and it soon turns into a great, driving piece. Sherwood's bass playing is flashy, and Howe's soloing is speedy, technical, and engaging in a way it hasn't been in a long, long time. The acoustic passage that follows actually sounds like Yes–and not worship music. It specifically reminds me of certain passages off of Tales from Topographic Oceans, with its unusual arpeggios and multilayered vocals. Orchestral elements show up here, and they're fine, I guess, but I don't think they add very much. They're subtle enough to not distract from the rest of the piece.
There's a Morse-code like pattern that crops up around the song's midpoint, and it's a nice complement to this album's repeated themes of outer space. The last four minutes or so are instrumental and can be broken down into three parts. The first is a slow, languorous passage with stretched-out guitar notes. It runs a bit long but is pleasant, overall. Following this part is a decent but unnecessary orchestral section. The song's final minute, though, is the best music Yes has written in a decades. Steve Howe finally gets to play a really good, memorable solo that is flashy, smart, and not just a rip-off of one of his earlier compositions.
Disc one of Mirror to the Sky ends on its weakest song. It's a solo Davison composition, and it's an overly-sentimental acoustic piece called "Circles of Time". It's the worst song on the album, but it's more bland than offensively bad.
The bonus disc consists of three solo Howe compositions. First is "Unknown Place". The main riff is jagged and has some great oomph to it. Davison's voice is, as elsewhere on this album, too soft, but the instrumental parts are pretty good. Some of the soloing is a bit extraneous. The underlying construction is strong enough to save the song, though. The last three minutes have some neat ideas that contrast grand-sounding organ with gentler acoustic guitar passages.
"One Second Is Enough" is unimpressive folk-pop-rock. It's not awful, but it doesn't do anything to stand out. "Magic Potion" has a nice, jangly main guitar line, but it suffers from the same ills as the preceding cut. Sherwood's bass playing is good, but it can't really save a song that is otherwise-unspectacular.
Mirror to the Sky was a pleasant surprise. It's a pretty decent overall album that sees Yes sound like Yes for the first time in quite a while. I'd put it about on par with Talk, in that it's a return to form for the band that also features a fair amount of pop influence. Davison's vocals might dampen the impact of many songs, but it's good to hear they're actually writing solid songs again.
Score: 73/100