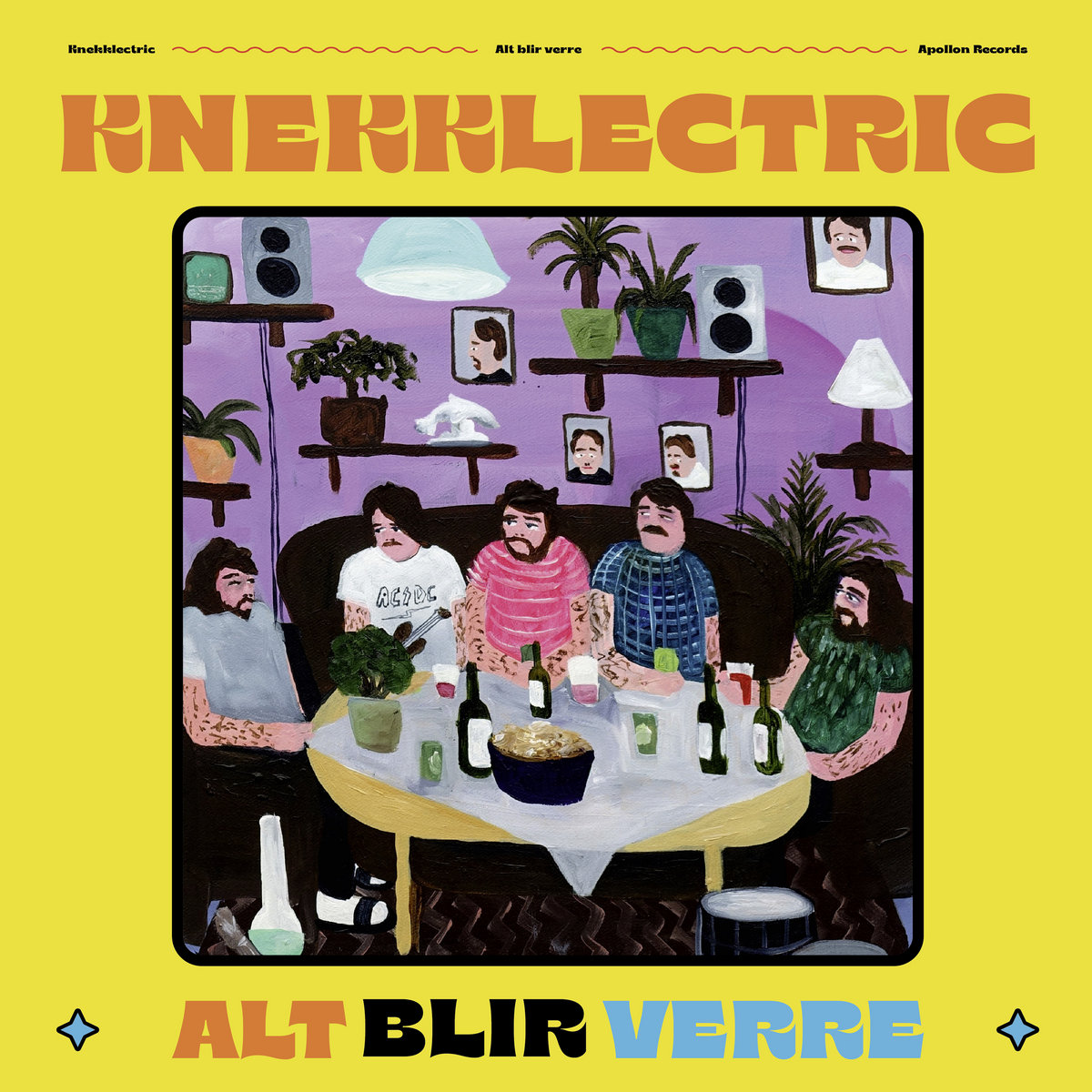 Band: Knekklectric | Album:Alt blir verre | Genre: Progressive rock | Year: 2022
From: Bergen, Norway | Label: Apollon Records
For fans of: Once and Future Band, Beardfish, PFM
I have repeatedly raised the point on this site that Scandinavia (or the Nordic countries, or however you want to define Iceland, Norway, Denmark, Sweden, and Finland) punch above their weight in the world of rock music. Based on their populations, those five countries (though less so with Denmark) comprise a disproportionately large chunk of my library. Today I'm specifically focusing on the Norwegian act Knekklectric.
Alt blir verre (Eng: Everything Gets Worse) is their first new full-length since 2017. The brand of music they play is fun, clever, and overall relatively sunny, especially when compared to some of their compatriots. Their lyrics are also in a non-standard dialect of Norwegian (the sociolinguistics of Norwegian are quite complicated), so I had to make some slight guesses when translating song titles.
The album opens with the tinkling piano of "Angra på" ("Regret On"). Right off the bat, the harmonized vocals and whirring synths add a celestial quality to the music. Twin guitars add a bit of Thin Lizzy-style fun during their brief appearances, and there's a sense of grandeur as the song builds. An extended solo in the song's second half introduces some small touches of jazz, and it resolves into an enveloping reprise of the chorus.
The album's title track follows. There's a laid-back, jazzy flow in its early moments. Folk influences appear, as well. I don't speak Norwegian, but contrasting the title against the light nature of this music gives me the sense that there's a nice, thick layer of irony here. Around the two-minute mark, the song bursts into a new movement. Clavinet and a Neil Peart-style tom fill kick off an energetic synth solo, and when the vocals reenter, they're hoarsely screamed. The song closes on an extended instrumental passage featuring a majestic synth theme and dark backing guitar and piano.
"1992" opens with guitar and organ that are reminiscent of many classic Italian prog acts, though the upbeat, buzzy verse is decidedly modern. The chorus is big and has a nostalgic feel to it. The instrumental passages, like on the preceding songs, take up a significant portion of the runtime, but they're fun and feel purposeful. In the song's final two-and-a-half minutes, following the solos, the vocals build from subtle and gentle to huge and triumphal.
Space-jazz synth textures and a steady rhythm kick off "Muknado" (no translation given in Google Translate). This song is fairly light overall, though big guitar lines and organ dominate the chorus.
"Rød bil" is another fairly light cut, featuring prominent folk influences in the verses. The inclusion of a vibraphone is a nice touch. In the midsection, understated vocals and acoustic guitar are paired with a lovely synth solo, which makes for an interesting juxtaposition. The opening theme eventually gets reinterpreted in an energetic fashion in the song's final minute.
The opening guitar of "Beksvart gull" ("Black Gold") is ragged and bluesy, and the first verse features some interesting vocal experiments. This song features more funky clav in its midsection, and the blending of jazz-rock and space rock is done very well.
Alt blir verre ends with "Se på me no" ("Look at Me Now"). The opening is slow and gentle, featuring just electric piano and vocals. These low-key verses are contrasted against much grander choruses, which prominently feature walls of organ and crashing cymbals. That said, this is probably the weakest song on the album, and it doesn't really feel like a fitting conclusion.
This Norwegian act's latest release is fantastic. The songs are smartly constructed and strike an impressive balance between artsiness and accessibility. There are strong melodic hooks mixed in with densely-layered instrumental passages, and the whole affair is a deeply satisfying listen.
Score: 90/100