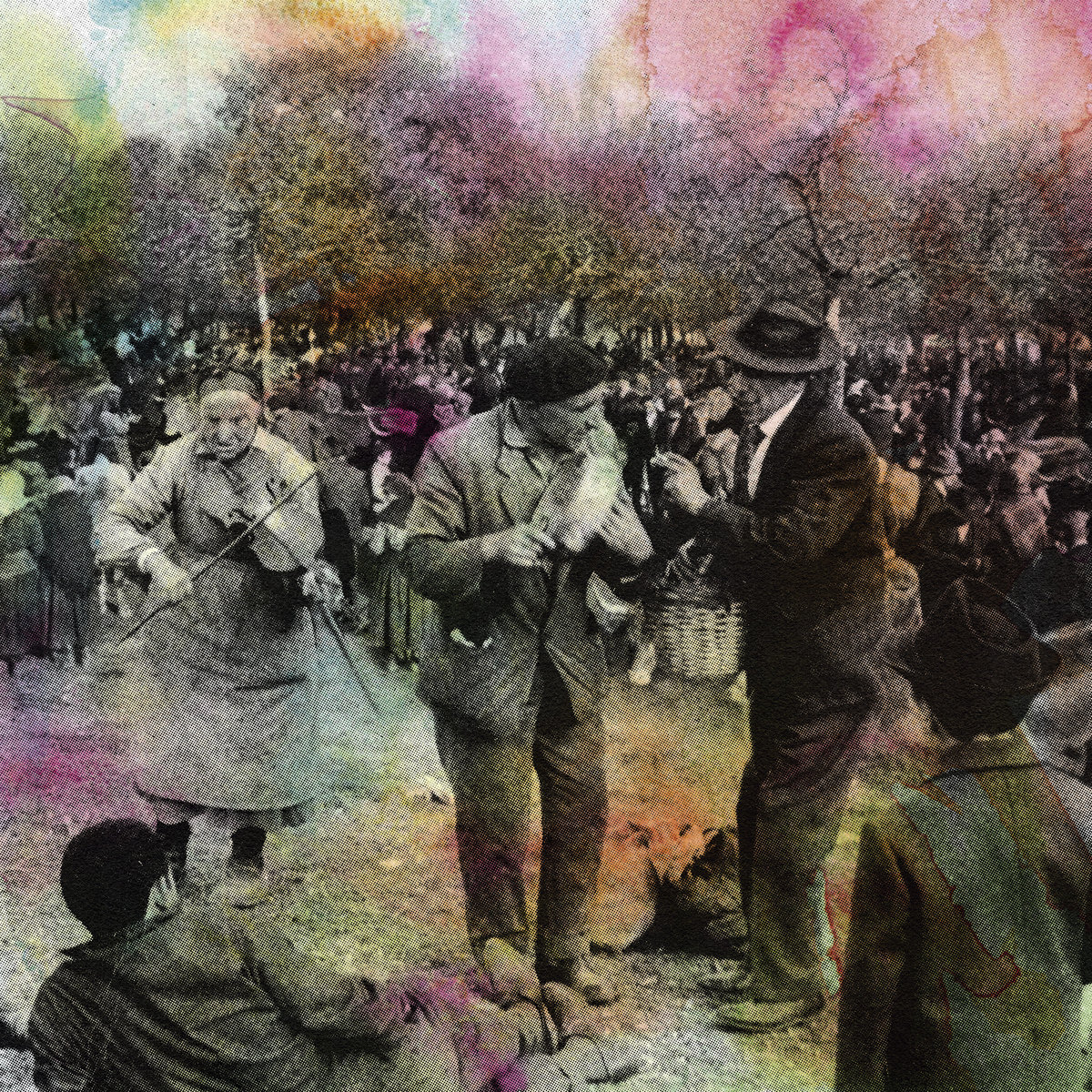 Band: Moura | Album: Axexan, espreitan | Genre: Progressive rock, Galician folk | Year: 2022
From: A Coruña, Spain | Label: Spinda Records
For fans of: Pink Floyd, Hawkwind, Traffic
Moura's self-titled debut album was my album of the year for 2020. It was an exceptional release which blended dark psychedelia, progressive song structures, and the folk music of Galicia (the bit of Spain that dangles over Portugal; not to be confused with Eastern European Galicia). Two years later, the band has returned with another outing that blends those aforementioned influences, as well as some new inclusions.
Axexan, espreitan (Eng. Lurking, Peeking) is a strong successor to Moura while also having its own unique character. The songs are terser on this album; both records are roughly the same length, but this has twice as many individual tracks as their debut. The folk influences are prominent, and that helps Moura stand out in the current progressive rock landscape.
The album starts with a low, wobbling synth drone that slowly builds. "Alborada do alén" ("Dawn from Beyond") is a swirling, atmospheric piece full of keys that throb and glide, setting an otherworldly mood. Emerging from this haze of sequenced synths are some slowly-enunciated vocals and earthy guitar in the opening moments of "Romance de Andrés d'Orois" ("Romance by Andrés d'Orois"). Squealing string instruments add some lovely texture as the song sets off into a folk-tinged march. This subdued track bears certain parallels with Jethro Tull, feeling like an Iberian counterpart to certain songs off Heavy Horses. An insistent theme builds during the final 90 seconds, eventually developing a ritualistic feel.
"Pelerinaxes" ("Pilgrimages") flows directly out of the preceding track. It has tinkling acoustic guitar and keys as brass instruments swirl in a way which evokes Robert Wyatt's Rock Bottom. The rhythm to this song moves along steadily, with a laid-back confidence. A few ideas are meditated upon over the course of this instrumental. The intensity gradually builds until a fuzzy guitar solo takes center stage, followed by some ever-so-slightly-overdriven strings.
A motorik drumbeat sets a steady pace for "Baile do dentón" ("Tooth Dance" or "Dance of the Teeth"). Guitar, keys, and strings float around the harmonized vocals, making for a hypnotic atmosphere. For a song about psychedelic ergot (a type of grain mold best known for causing "St. Vitus' dance"), this is an excellent mood to cultivate. As with other songs on Axexan, espreitan, this song has a wonderful arc which masterfully ups the ante over its runtime.
Eerie effects and loud thuds punctuate the opening of "Alalá do Abellón" (no translation given). This song leans heavily into some of Moura's spookier, more occultic leanings. Galicia prides itself on its Celtic past, and there is a strongly druidic quality to the chanting here. This song is downright ritualistic.
"Cantar do liño" ("Singing Linen") has a much lighter feel to it. Breezy guitar and jazzy drumming make for a floating, calm aura. This is further enhanced by Mellotron flutes and strong backing vocals.
After that brief little interlude, "Encontro cunha moura fiadeira en Dormeá" ("I Met a Moorish Guarantor in Dormeá") leans into jazz quite strongly. The mood remains light, and some Traffic-like bluesiness crops up here. This song takes a little while to get going, but its second half is strong and engaging, with some awesome, fuzzed-out jamming which strongly recalls early King Crimson.
The album closes with "Lúa vermella" ("Red Moon"), its longest song. The song opens with unassuming nylon guitar. The first couple minutes are simply a folk song, but it acts as an effective scene-setter. After five minutes of slow-moving tension, the song bursts into an oppressive, nasty, sludgy riff. The vocal performance is especially strong as the song trudges forward. Combined with the unique keyboard tones on display, the final minutes of this song feel like Pink Floyd c. 1969 playing sludge metal.
Moura's sophomore album is another powerful, unique release from this band. The way they manage to interweave Galician folk music with psychedelic and progressive rock is truly impressive. They evoke many of the giants of the genre, but always in vague allusions; there is no mimicry here. I've given this album a few spins now, and I've enjoyed it more on each successive listen, so there is a ton to uncover and love.
Score: 89/100