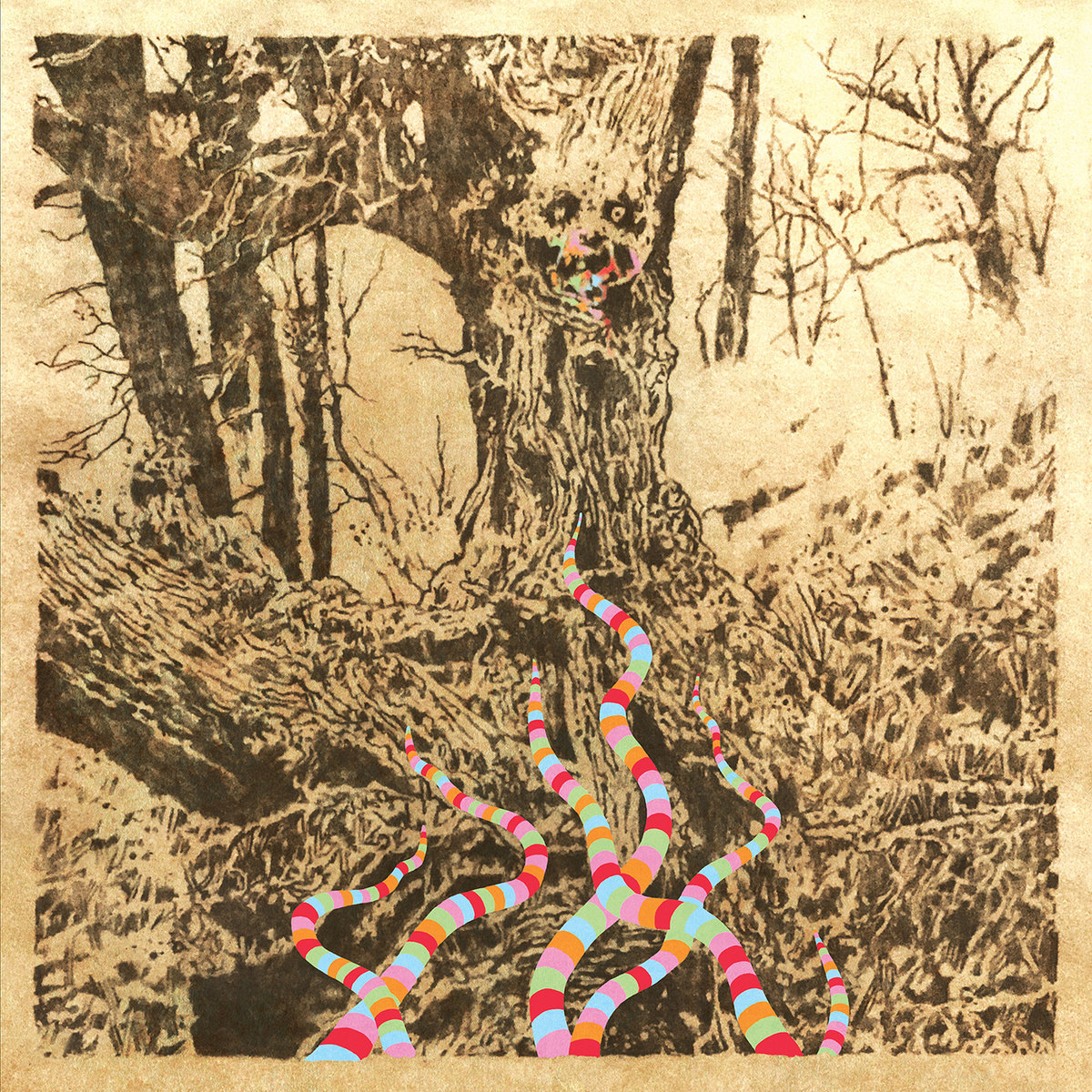 Band: Regal Worm | Album:Worm! | Genre: Progressive rock, Psychedelic rock | Bandcamp
From: Sheffield, UK | Label: Quatermass
For fans of: Caravan, Diagonal, Egg, Perilymph
Jarrod Gosling (also known by the alias of Varrod Goblink) is back with another album under the Regal Worm moniker. Last year's The Hideous Goblink was a wonderful piece of buzzy, progressive psychedelia with a clear sonic throughline.
On Worm!, Regal Worm's fifth full-length release, the sound palette is a bit more diverse, but this pays dividends. While the songs don't flow together seamlessly like on the last Worm release, there's still a unique energy to Gosling's music. The overall feel of Worm! Is lighter and more playful than its predecessor; there's no 19-minute opus called "The Satan" on this one.
Worm! kicks off with the high-octane space-age psychedelia of "Regal Wishbone". The rhythm is driving and insistent, and the lightly-processed vocals (along with the rich variety of vintage synths) lend this song an extraterrestrial air. The music is jittery and jazzy with a breathless pace.
"Don't Freak Out the Creatures" is even more jazz-forward, landing somewhere between early Soft Machine and early Pink Floyd. It's an energetic song with lots of quirky keyboard tones, and its pace and intensity gradually increase across its runtime. In contrast, "Dirty Super" opens on a somewhat mellower note. The synth pulse backing this piece is quite propulsive, but the orchestration is pared down, allowing the music more room to breathe. In the song's second half, there are some neat little wonky tricks with the meter and rhythm that add character.
The longest song on the album is "The Steppe Nomad Space Program". It opens with balalaika on a jaunty, folky note, though Gosling's distinctive vocals don't let you forget this is a Regal Worm song. As with this album's opening song, this track gives the impression of traveling through space as the usual array of astral keyboards make their entrance. This song displays its own nomadic tendencies as it moves around from one musical idea to another. It integrates folk and jazz amidst the usual psych-prog milieu, but it always feels cohesive and sensical. The closing couple minutes feature some especially fun instrumental interplay.
"Bong Song" follows with a bouncy, bubbly backbone and some strongly lounge-y jazz tones in the melody. Despite barely cracking two-and-a-half minutes, it overstays its welcome by a hair. There's a similar bounciness to "Chlorophyllia", though this one's a bit more anxious. Near the song's midpoint, there's a nervous instrumental passage with some electronic touches I quite enjoy, but this song also feels like it meanders more than it needs to.
"Green Beetle, Plate 31" continues with the electronic flavors and sequenced synthesizers. This early krautrock vibe reminds me a lot of the band Perilymph, an act I've covered twice before. The textures throughout are nice, and Gosling also has some lovely vocal arrangements near the end of the song. Following an odd, electronic outro, "Is There Anything Blacker Than a Black Cat?" maintains a similar atmosphere. Subtle hints of wobbly, wahed guitar are nice, and the minor key moments add good contrast.
Worm! ends on "Hop", the album's shortest song. The synth choices and odd meter remind me strongly of King Gizzard's Butterfly 3000. The overall oddness is fun, catchy, and the title matches the music wonderfully. But despite all that, this doesn't really feel like a fitting conclusion to this album.
Overall, I liked Worm! I may have had a few gripes, particularly in its second half, but Gosling is a strong enough songwriter that it still manages to stay entertaining. Songs occasionally feel aimless, and one track can bleed into another. This also feels the least like a unified album of Regal Worm's output. But despite this, it's enjoyable, jazzy psych which is pretty fun to chill out to.
Score: 74/100