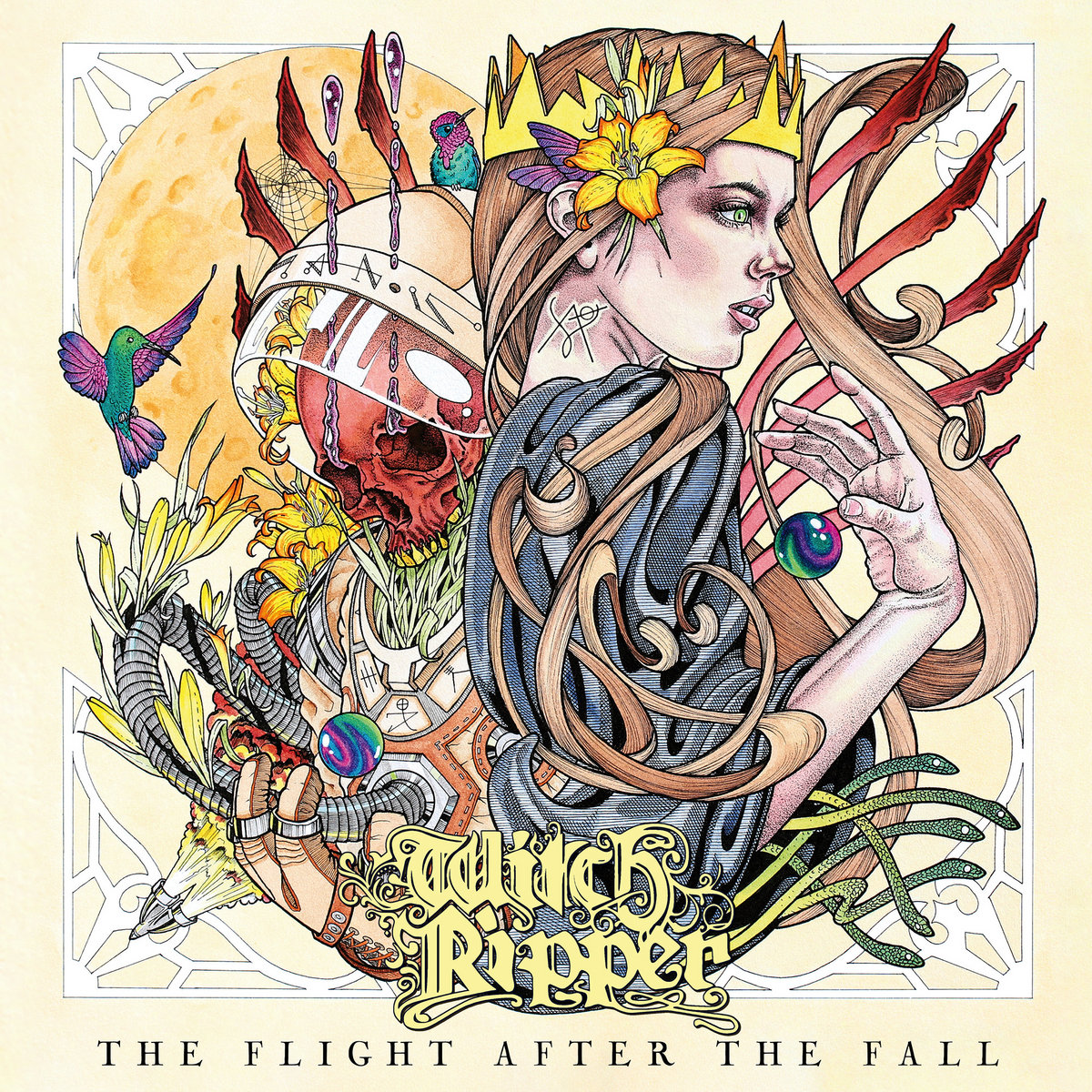 Band: Witch Ripper | Album: The Flight after the Fall | Genre: Sludge metal, Progressive metal | Year: 2023
From: Seattle, USA | Label: Magnetic Eye Records
For fans of: Mastodon, Baroness, Gojira, Inter Arma
Witch Ripper is one of my favorite local acts from the Seattle scene. They play a heavy, sludgy variety of metal, but it's shot through with complex melodies and artful subtleties. I've seen them live a few times, and they always put on a fantastic show. So if you're in the Pacific Northwest and you get a chance to see them, I'd strongly recommend the experience.
Despite being around since 2012, the band didn't put out its first full-length release until 2018. Homestead is a solid album with some great moments. It's more sludge-with-prog-elements than vice-versa, but it still holds its own. Their new album, The Flight after the Fall, has more explicitly progressive leanings.
The album begins with the haunting atmospherics of "Enter the Loop". Eventually, though, thundering guitar and bass storm in alongside clattering drums. The vocals are delicate, in contrast to this powerful backing. There's a soaring, ascendant quality to the chorus, which suits this album's sci-fi themes well. This approach is balanced against flashy, technical sludge riffs during the verses for a wonderfully well-rounded song.
"Madness and Ritual Solitude" follows. A rolling tom pattern sets a fittingly ritualistic mood before doom-laden walls of guitar crash through to the fore. By the time the piece coalesces into a verse, the tempo has increased, and the intensity is evocative of the best moments on Leviathan. This is a crushing, powerful cut that's able to harness the band's raw energy. Jazzy, King Crimson-inspired instrumental theatrics are sprinkled in throughout, to great effect.
Gentle, warbling guitar opens "The Obsidian Forge". It fosters a slightly unsettling feeling as palm-muted riffs and tom fills bubble beneath the surface. Strong echoes of Mastodon's best work are again evident, but Witch Ripper's own unique melodic tendencies keep this song their own. This piece ends on a lovely, interstellar-sounding instrumental passage, and the deployment of synth pads goes a long way in fleshing things out.
"Icarus Equation" blasts off with incessantly heavy, mid-tempo riffing. In this song's midsection, the guitars switch from propulsive to plodding, giving a sense of raw desperation to match the lyrics. Following a brief, flashy guitar solo, this song's final two minutes synthesizes this song's preceding moods into a majestic climax.
The Flight after the Fall ends on its longest song, the 17-minute, two-part "Everlasting in Retrograde". A brief, slightly-askew, Middle-Eastern-flavored intro leads to a crushing guitar line and roughly-shouted vocals. Clean vocals lend a sense of grandiosity during slower passages. The instrumental passages in this first part are tight and engaging; nothing feels extraneous.
Part one ends on a gentle note and leads directly into the anxious guitar-driven opening of part two. After a moody, two-minute instrumental passage, gentle vocals come in, and swelling synth pads lend a softness to this section. As the intensity builds though, the song erupts into a dramatic, emotive guitar solo. The final minute of this song is a gentle cool-down from its soaring apex. This is a fittingly epic conclusion to this record.
Witch Ripper's newest release is an enthralling blend of sludge metal and progressive rock. Harsh and heavy passages are expertly balanced against gentler moments. There's a sense of sonic continuity between the songs, but the tracks still manage to stand out from one another. This is an exciting record that is absolutely worth your time.
Score: 91/100