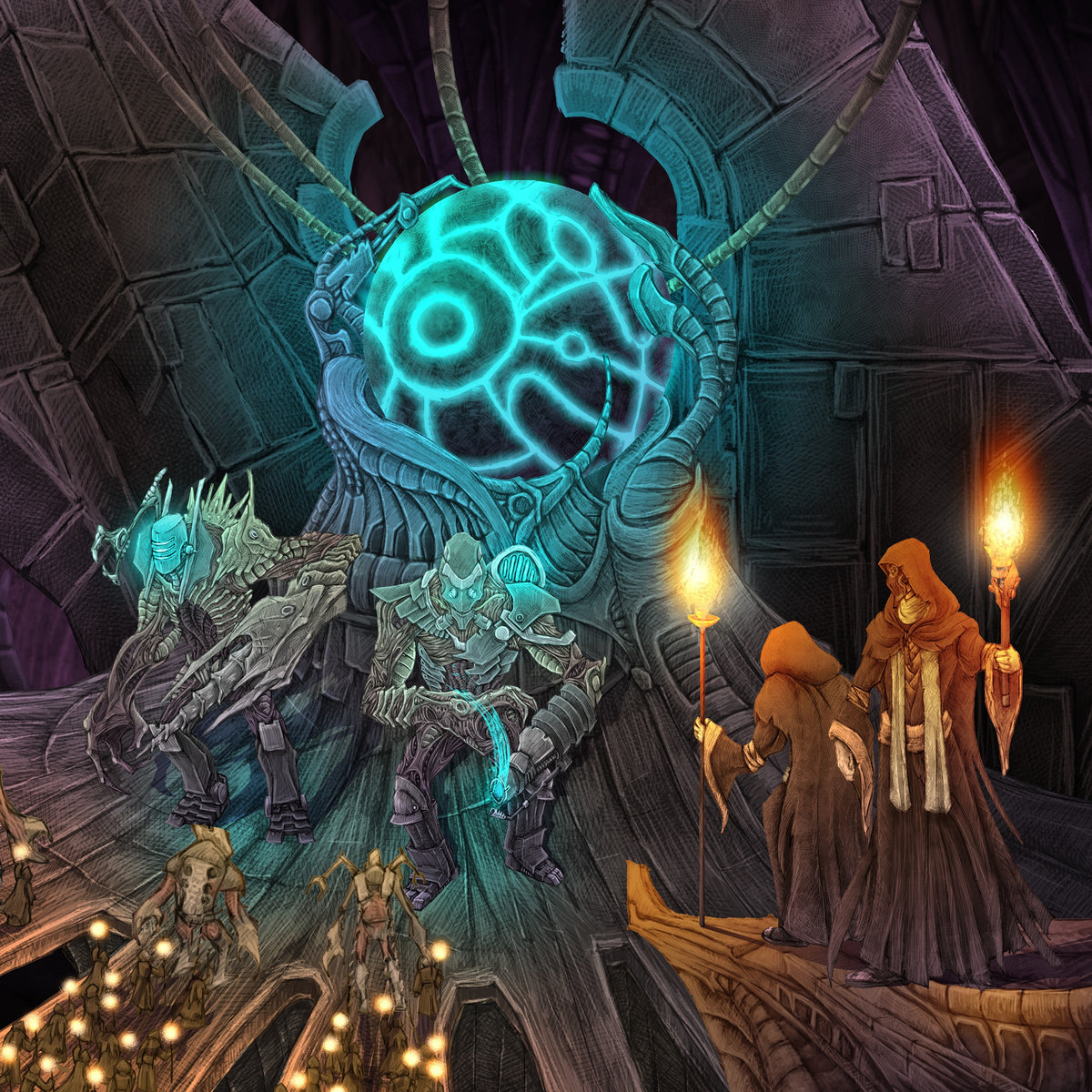 Band: Æthĕrĭa Conscĭentĭa | Album: Corrupted Pillars of Vanity | Genre: Black metal, Progressive metal | Year: 2021
From: Nantes, France | Label: Independent
For fans of: Ihsahn, Enslaved, Panopticon, Van der Graaf Generator
Progressive rock and progressive metal are notorious for high-minded concept albums which feature dense, intricate worldbuilding full of invented names and esoteric jargon. Ranging from the complex, Kobaïan mythos of Magma to Dream Theater's multiple over-the-top multithreaded stories, you often don't need to range too far afield to find a record which sounds like it started off life as an idea for a sci-fi novel.
Æthĕrĭa Conscĭentĭa is a French quartet which uses saxophone-infused progressive black metal to tell their tales of astral mysticism. Their 2018 debut, Tales from Hydhradh, is a powerful record which marries jazz, prog, and metal elements beautifully. Their 2021 follow-up, Corrupted Pillars of Vanity, takes that strong base and improves on it.
The album opens with the 15-minute epic "Asporhos' Altering Odyssey", which tells the story of humans aboard a dying starship desperately searching for a new world. The opening is a gentle build, with acoustic guitars and folky timbres eventually giving way to black metal savagery. Sax frequently carries the lead melody, and that reedy sound suits the song's overall distortion and aggression very well. In the song's slower moments, where doom metal influences creep in, the sax continues to excel in its lead role. The song's eventual climax is a crushing revisitation of an earlier theme which fades into a mirror of the gentle opening.
"The Corrupted Sacrament" is the shortest song on the album and covers, as the title says, some sort of sexual rite. It opens with a chunky riff that marches forward at a determined pace. The inclusion of congas adds to the distinct atmosphere, and there is a twisted sultriness to the slower moments.
The other song here to clock in at under 10 minutes is "Liturgy for the Ekzunreh". I can't give you a summary for the plot of this song, since it's both not wordy and in a fictional language. This liturgy is an atmospheric piece, with groaned chants and jazzy percussion. By the time it reaches its midpoint, it has evolved into something completely different: it's energetic with snappy bass and snarled vocals. This piece culminates in an evil-sounding ritual chant backed by twisting, psychedelic black metal.
Corrupted Pillars of Vanity closes on the 25-minute, two-part opus "Absurd Crusade", which is about a quest into the planet to find the mystical Kholoss. Part 1, subtitled "Elevation in Arrogance", begins with brooding, atmospheric clean guitars. When the black metal begins, it's got a somewhat Panopticon-y feel to it, and I am once again impressed at how well sax and congas fit into this milieu. The song effortlessly switches between searing shredding and slower plods.
Part 2 ("Collapse in Penance") begins with a strange groove that really sells the sci-fi angle of all this. Ugly, dissonant chords are used tactfully as a contrast to some rather smooth, jazzy sax noodling. A quiet midsection builds a sense of foreboding before launching into a movement which sounds like an alternate-universe black metal version of Pawn Hearts. This record keeps up a furious, charging pace right up until its final minute, and the record ends on an eerie drone.
Æthĕrĭa Conscĭentĭa have carved a distinctive niche for themselves in the black metal world. They artfully blend that genre's raw aggression with progressive rock, jazz, and space rock. The result is a creepy, enthralling album that I highly recommend.
Score: 88/100