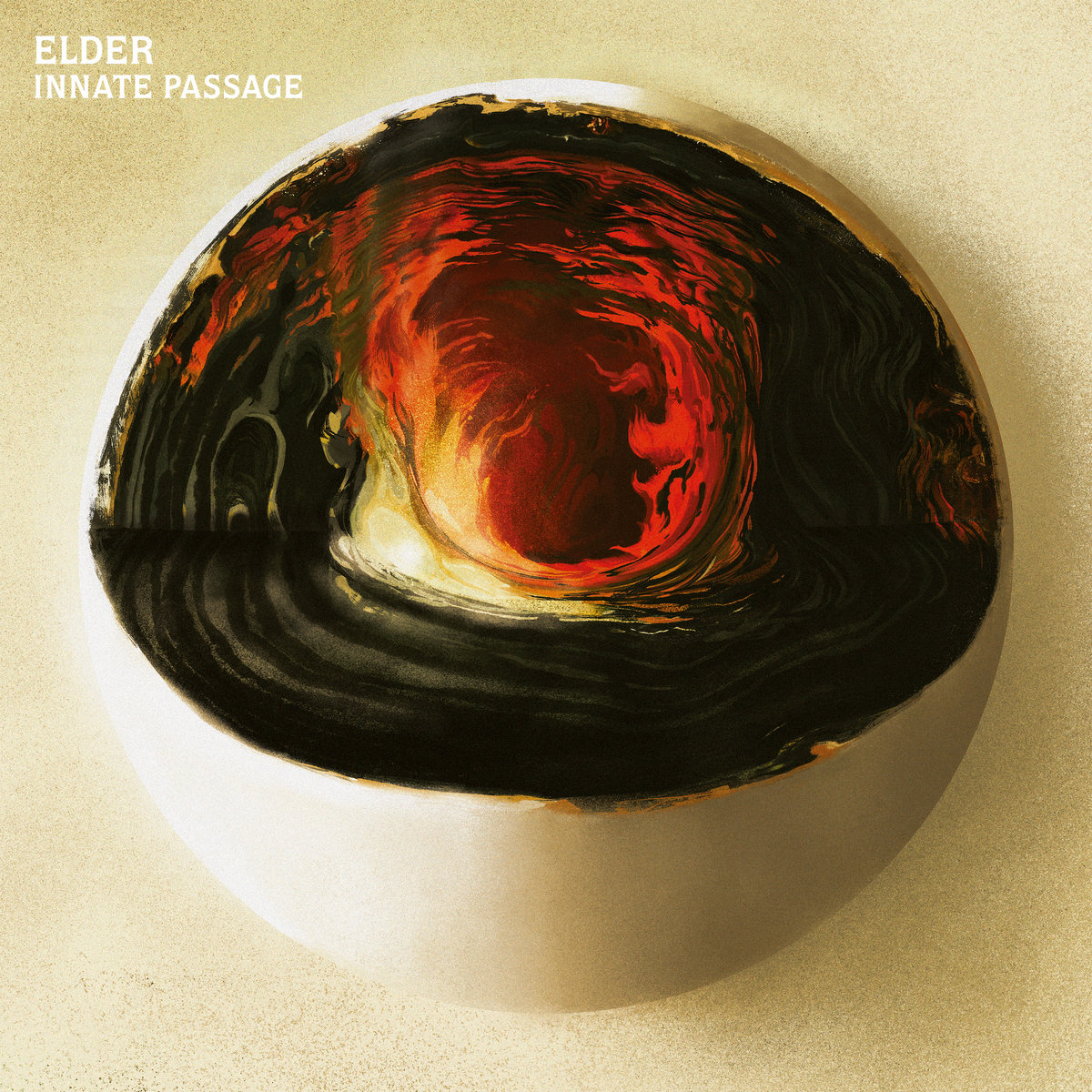 Band: Elder | Album: Innate Passage | Genre: Heavy psych, Progressive rock, Post-rock | Year: 2022
From: Boston, USA (originally); Berlin, Germany (currently) | Label: Armageddon Records (USA), Stickman Records (elsewhere)
Elder is a big enough name in the world of progressive rock and progressive metal that I figured I could probably safely exclude the "For fans of" section from my header. Their sound is a distinctive mix of heavy psych, progressive rock, and stoner metal that is (usually) smart, technical, accessible, and expansive.
I wasn't wild about their last album, 2020's Omens. (Though I did give a positive review to their 2021 collaboration with Kadavar.) It felt aimless and unambitious at points, and I wasn't crazy about the production. I gave it a lukewarm review at the time, and my feelings haven't changed much since. It's fine, but non-essential. Thankfully, Innate Passage is a big step up. Like four of their five previous albums, this release consists of five long songs. Despite the band's predictable album structure, they're still able to do a lot of fun and interesting things.
"Catastasis" opens the album with a gentle synth drone and a lonely, echoing guitar line. This introduction soon gives way to a lurching, cannabinoid riff, though that echoing clean guitar returns for lovely textural contrast. Piano and synthesizer shine through the sludgy backing, and there's a synth solo that is strongly indebted to Rick Wakeman at the end of the intro. The verse is fairly quiet and mellow, but it smoothly flows into a heavier passage. The instrumental section of this song's second half channels post-rock by interweaving clean guitar lines with lush textures.
Another synth drone serves as the introduction to "Endless Return", though that soon gives way to a galloping, groovy guitar line. The band escalates smoothly to a majestic passage of bludgeoning distortion and rich Mellotron. Nick DiSalvo is a consistent vocalist, but his performance is especially strong on this song. "Endless Return" is probably also my least-favorite song on the album, but it's strong enough that I'm able to give it a good amount of unqualified praise. It's not their most original cut, but even boilerplate Elder is pretty good.
An echoing guitar arpeggio and motorik(-ish) drumbeat kick off "Coalescence". The introductory guitar solo is melodic and playful, and the clean lead tone contrasts nicely with the crunchy backing. Mellotron again fills in the spaces in the track nicely, and the band's astral noodling feels like it's building to something, rather than simply filling space. This song's second half is another strong example of the band's ability to organically build from quietude to aggression. I'm quite fond of the flashy synth solo in this song's closing minute; this is the sort of keyboard-integration I was hoping for on Omens.
The nearly-15-minute "Merged in Dreams – Ne Plus Ultra" opens dreamily. Bass and clean guitar echo broadly around a simple drumbeat as a warm, wiggly synth line adds a sense of depth. Of course, big walls of distortion come crashing in eventually, and a palm-muted, thrash-influenced riff gives this song some urgency. As the song enters a quiet phase, organ enters to complement the multilayered vocals and gentle guitars, though that tapestry is again soon eschewed for some heavier riffs. 
Around the 10-minute mark, this song takes an unexpected electronic turn. It gets much quieter and mellow synthesizers form the bedrock. This passage reminds me a lot of DiSalvo's solo project, Delving. In the last minute, though, pounding guitars and drums reemerge, and this passage draws heavily from the worlds of post-rock and post-metal.
Innate Passage ends with its shortest song, the eight-and-a-half-minute "The Purpose". As with each of the four preceding songs, the opening is calm, though that doesn't last long. The pace remains subdued, but unmistakably Elder-ish riffs dominate the soundscape. The verse sounds especially glorious; keyboards go a long way toward adding depth to this piece.
On their new album, Elder does a great job of refining their sound. They don't stray too far from their wheelhouse, but the greater integration of keyboards does a lot to make Innate Passage distinct within their discography. It's not quite on the level of Lore or Reflections of a Floating World, but it's quite a solid release.
Score: 84/100